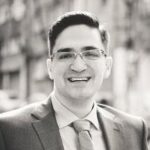 Milos Stopic
Louis Berger


Milos Stopic, Louis Berger
Compliance & Ethics Officer Middle East & Eastern Europe.
Milos is the Compliance & Ethics Officer at a civil engineering company based in London, UK. He is responsible for administration and day-to-day operations of the compliance and ethics program in the Middle East and Eastern Europe and the implementation of recommendations from the Deferred Prosecution Agreement (DPA) with the US Department of Justice. Milos worked as Ethics & Compliance Manager establishing a compliance and ethics program for an airline in Europe. He started his career with a Big4 forensics team and specialized in fraud investigations and anti-bribery / anti-corruption compliance, working for pharmaceutical companies and financial institutions in Europe and the US. Milos is a law graduate from University of Belgrade, Certified Fraud Examiner (CFE), and Certified Compliance and Ethics Professional – International (CCEP-I). Fun fact about Milos: like most parents he is desperate to get more sleep and get back into shape.