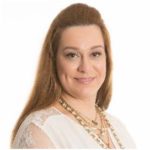 Ingrid Matos
QGMI


Ingrid Matos
Chief Compliance Officer, QGMI
Ingrid Matos, a professional with over 15 years of experience in international law and compliance for global corporations. Ingrid work with corporate leadership and teams on the ground to align operation with international standards.
Ingrid currently serve as the Chief Compliance Officer at QGMI, a major civil engineering firm based in Spain with operations in Africa and Latam. Ingrid was responsible to implement the Compliance Program in the company since the scratch, applicable in more than 15 countries, including Spain, the UK, Brazil, and more.
Ingrid has attended numerous academic and professional compliance conferences around the world and is also a Certified International Compliance Professional, recognized by the International Compliance Association (ICA).
In addition, she is a certified attorney with an LLM in Financial and Capital Market Law and has also an executive MBA from INSPER in Brazil. In addition, she has been selected to participate in the Executive Training Program at Harvard University, studying Risk Management for Corporate Leaders.