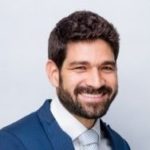 Alex Bolinelli


Alex Bolinelli
Head of Lean,
Hilti Group, Switzerland
As head of Lean Alex is responsible to drive the overall operational excellence within Hilti's manufacturing organization (Plant Schaan) and also to provide leadership and guidance on Smart Factory topics (e.g. industry 4.0 / digitalization) as part of Plant strategy to outperform.
 With over 10 years of experience in business and in consulting with focus on overall Business Performance Improvement and Operational Excellence.
Worked with different industries (automotive, aeronautic, consumer goods, food and construction – including Volkswagen, MAN, Fiat, Navistar, Embraer, Mead Johnson and Whirlpool), countries and cultures (Germany, United Kingdom, Brazil, Mexico and Venezuela) within the themes of supply chain, logistics, production, planning and administrative areas.
Graduated in Production Engineering (UFMG/ Brazil) with a Master degree in Economical Engineering (TU Chemnitz/ Germany), specialization in Logistics (FEI/ Brazil).