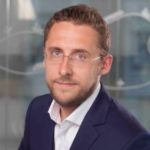 Rafał Tarasewicz


Rafał Tarasewicz
Head of Operational Excellence Europe, DB Schenker, Germany
Since 2017 Rafal Tarasewicz holds the function of European Head of Operational Excellence being responsible for development of all existing operations in CL in Europe (31 countries, 300+ sites, 4000 customers). He is one of the co-authors of a global operational excellence program at DB Schenker ("XSITE").
Rafał holds a PhD in Economics from the Warsaw School of Economics. He is the author of numerous scientific publications and a lecturer. His book entitled "How to measure the performance of supply chains?" was nominated in the prestigious ECONOMICUS 2015 competition, organised by Dziennik Gazeta Prawna and the National Bank of Poland, as one of the TOP 10 books on economics in Poland.
He has been associated for 16 years with DB Schenker, acquiring management experience in logistics and supply chain management during that time. He held various functions before in such areas as operations, business performance (incl. lean transformation), finance, project management, quality management as well as sales and business development. He participated in a leadership program in Denmark and Germany, where he had the opportunity to broaden his knowledge of the management of advanced logistics projects. In 2008-2012, he was a member of the DBSchenkerSportEvents team. In 2010-2016 he was responsible for operations and business performance in Contract Logistics in Poland and Northeast Europe.
He is interested in sports and travel. He played football professionally for several years, e.g. in the Polish youth national team. He is a fan of Legia Warsaw football club. He has visited more than 70 countries on 6 continents.
He is happily married and the father of Łucja and Zenobia.