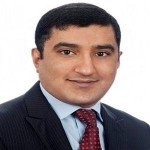 Mian Murad Ahmad
Alghanim Industries, Kuwait
Senior Manager – Business Intelligence and IT strategy



Linkedin: mianmurad
Aim to transform businesses through digitization, automation and analytics. I am a business transformation leader with expertise in global leadership, business process optimization and business intelligence. 
I have been helping customers improve businesses by implementing SAP ERP, mobile, cloud and analytics applications for the last 12 years. I have been a trusted adviser to C-level executives and leaders on business transformation to achieve strategic objectives such as cost savings, selecting IT investments based on bottom line return, operational efficiency and delivering IT-enabled business innovation. I have delivered SAP and IT programs in complex and challenging enterprise environments in the Middle East, subcontinent and the US. I have led implementation of business improvement programs with several SAP technologies including enterprise business solutions (ERP), client relationship management (CRM), business intelligence (BI), data warehouse (DW), enterprise architecture (SOA based), middleware, mobility and cloud solutions.

Mian is goint to present about how to put predictive at the heart of your business.
Predictive, cognitive, big data cloud, data science
How can we make sense of all the jargon and fast moving technologies. Let us look back at how we
got here and what do you need to succeed in ever connected data driven world. Learn about
concepts in predictive analysis in an easy way and discover with examples how you can put
predictive at the heart of your business.