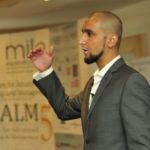 Naveed Khawaja
ASTRAZENECA


Naveed Khawaja, ASTRAZENECA
Director, Agile & Lean Transformation

Naveed has radiated the passion for improving organisations, culture, practices and result-oriented change over the past 16+ years with keynote speaking, experiential training and productive coaching.
Having an infectious enthusiasm for continuous improvement, he currently specialises in 'Enterprise Agile | Lean | KanBan Principles' with a focus on 'Scaled Continuous Innovation & Disciplined Execution' journeys. His recent transformation was for inter & intra-department change where he disciplined the teams & a £350M+ portfolio.
He is a multicultural expert in managing offshore teams. Known for inculcating visionary ideas with innovative analogies & brainstorming, he possesses an engaging training, coaching, facilitation & presentation skills. Being a frequent keynote speaker at international conferences, seminars, webinars – he talks about purpose orientation, innovation, collaboration and high performing teams.
With a solid foundation of Energy, Telecom, Pharmaceutical, Publishing, Financial, Civil, Manufacturing verticals, he shares his passion with an innovative, productive & motivating entrepreneurial mindset in 'Agile, Lean & KanBan' in corporate & lean startups.