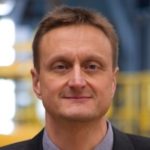 MAGNUS GASSLANDER
VOLVO BUS


MAGNUS GASSLANDER, VOLVO BUS
Senior VPS coach and Global VPS Operations coordinator

Working more than 35 years in Volvo with 20 years of experiences in the Operational Excellence has given Magnus insights for the need of each individual in the organization to be invited in the never ending change journey and the crucial role of leadership to make this happen. The need for leaders to lead towards the new state via goal setting and strategic dialogue – listen and give feedback.
People are the enabler for a company to take the next step. There is a huge potential in the collective thinking. It is a matter of releasing that thinking and believing in the local expertise.
Within VOLVO Magnus has had roles from the shop floor to leader positions with experience from working in Sweden, US and Germany: Global and local manager, Coordinator of Volvo Production System, Trainer and coach, assessor, Senior coach for management teams in Continuous Improvement.  Magnus hold a Master of Science degree in Material Science and is trained Six Sigma Black Belt.