SMART MANUFACTURING

Smart Manufacturing Global Summit
Milan, Italy
 8th – 9th November 2018 
Maximum Networking, Highly Interactive, Non Vendor Driven
















The summit is approaching smart manufacturing from its holistic point of view as a manufacturing ecosystem and takes into consideration also softer elements besides the technology related one, like redefining business strategies and models to fully benefit industry 4.0 opportunities.
The event brings together experienced speakers – industry leaders to share their experience and lessons learned with other senior experts and managers. We allow maximum 100 delegates to maximize the networking outcomes. The summit is non-vendor driven to support peer networking and experience sharing.
Digital Factories / Factories of the Future
Smart Manufacturing Ecosystem
Digital Transformation
Redefining Business Strategies – New Technologies Driven Business Model
Exploiting Internet of Things and Industrial Internet of Things
Industry 4.0 challenges and opportunities
Open Innovation and Open Manufacturing
Production Flexibility and Adaptability (Fast Changing Customer Demand
Driven Production, Additive Manufacturing and its provisions etc.)
RPA & Incorporated Artificial Intelligence
Open Innovation
"Publish or perish" a term used in academia may have its equivalent in manufacturing world "become smart/digital/connected…. or perish". Major industry leaders have started their industry 4.0 transformation long time ago and they have not only adapted to the new trend but have made it their competitive advantage. But there are still many companies in the beginning or mid journey of the transformation process facing challenges and having still important decisions to make.
For many companies there still remain challenges and questions to be answered:
How do we finance the technological transition? And how will the return on investment be measured?
Into what extent open manufacturing is beneficial? And which partners can technically support this transition? How to choose the best solution providers?
Shall we build a new smart factory or shall we adapt and upgrade the old one?
How to make the best use of new technologies like advanced robotics, IoT, IIoT, Additive Manufacturing, AI etc. What are the best practice and challenges in the process of launching the new technologies and bringing them to the state of excellence?
How many new positions will be created, how many will be lost? How will the robot-human interaction work? How difficult and costly will recruiting new talents be? How to achieve the mind shift throughout the whole company?
Business models should be under-questioned and redefined. Is it a task for limited group of senior managers or shall a broader expert group be part of this decision making? Those who have invested time, processes and finance to support lean manufacturing and change management are better prepared for this transition.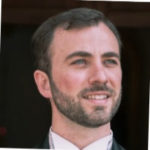 Daniele Frigerio
Candy Hoover Group
Italy
R&D and Manufacturing Transformation Program Manager
SHERATON MILAN MALPENSA AIRPORT HOTEL & CONFERENCE CENTRE
Malpensa Terminal 1 S.S. 336, Ferno, 21010, Italy