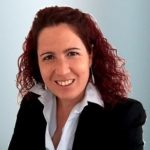 Nahia Orduna


Nahia Orduna
Senior Manager in Analytics and Digital Integration, Vodafone, UK
Program Manager, Women in Big Data
As a Senior Manager in Analytics and Digital Integration, Nahia Orduna leads a team which empowers digital strategy across Vodafone Business Commercial & Operations by accelerating quality decision-making based on facts and insights. She is a Telecommunication Engineer holding MBA.
Nahia is a firm believer that technology improves the world and that the impact of digitalisation in our lives is extremely positive. She has been working in the last 15+ years in companies which are connecting the world and driving this change, such as Cisco Systems or Vodafone. She started her career in Spain, where she is originally from, she moved to the Netherlands and now she is based in Germany.
She believes that we will all live in a better society if we all use our talents and skills. That is why she likes to mentor and coach and she is currently leading as EMEA Program Manager Women in Big Data, an industry-driven global organisation which wants to encourage diversity in the Big Data field.
In her presentation Nahia will talk about diversity benefits in Data and Insights Teams. She will involve the audience to share their experience and realize the value of diversity while interpreting data.