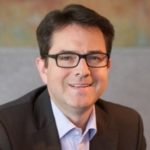 Martin Wilckens


Martin Wilckens
Senior Manager HR Digital & Innovation, former VP Group Strategy & Transformation
Martin Wilckens is Senior Manager, working within Deutsche Telekom's HR Digital & Innovation department since 2016. In this function he is shaping the strategy towards working in the digital age and is responsible leader for projects driving forward digitization of HR and collaboration within Deutsche Telekom. In 2018 he became Design Thinking Facilitator.
Before, he was Vice President within Deutsche Telekom´s Group Strategy department, responsible for developing the Group Strategy of Deutsche Telekom and driving its implementation.
Before joining Deutsche Telekom Group in 1997 Martin was a Senior Consultant with Intraplan in Munich, specialised on consulting to stakeholders in the area of transportation. Prior to that he served as an Expert for High Speed Railways at the International Union of Railways in Paris, France.
Martin Wilckens holds a degree in economics which he received from the university of Bamberg.