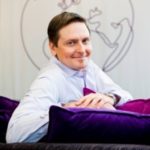 Jarno Kekalainen
Telia


Jarno Kekalainen,  Telia
Director Process Automation and Robotics

Born and raised in Finland, but upon the time of University studies, decided to move to the United States and completed a Bachelor's and Masters degree in the field of Marketing and Business Strategy. Joined the Telia company in the year 2000 and has been working in leading software engineering, company merger and business control.  After year 2011, has lead numerous initiatives regarding Business transformation, successful Go-To-market initiatives and turning internal operations into new business opportunities. Robotics is one of those initiatives. ¨
Started from scratch, lead and establishment of a solid robotization strategy for the Need2order and order2cash process chains delivering multimillion Euro results in less than a year. He firmly believes however that to be successful, you need to lead people through change, only then technology will follow.
Jarno's presentation will disclose:
– Brief overview of the benefits of Robotics
– What kind of robots have we implemented in Telia
– Story of our journey and how to get people on board
– Case examples of implementation and benefits
– Telia's 4 step implementation model
– Where do we go from here / AI etc.