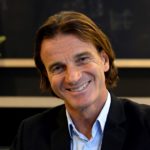 Valerio Nannini
Nestlé


Valerio Nannini, Nestlé
Former Senior Vice President Head of Strategies and Performance
 is an Italian and British citizen, who holds a Master's degree in Chemistry from the University of Florence, an an MBA from the University of Wales.
Valerio started his carreer with Nestlé in Italy in 1984, and since then, he has helped build, establish and reorganize several Nestlé units, across various Technical, Supply Chain and R&D functions. To fulfill his different missions, Valerio lived in India, Thailand, Indonesia, South Africa, and Singapore, where he strengthened and grew the business for three consecutive years, establishing an innovative, fresh and unique working environment.
Prior to his stint in Singapore, Valerio drove the innovation strategy for the Coffee & Beverages Strategic Business Unit, tracked its implementation as well as drove the Nestlé Product Technology Centre in Orbe, Switzerland which he transformed into a cross-functional organization, while designing and managing internal and external innovation networks.
In April 2014, Valerio was appointed Senior Vice President, Head of Strategies and Performance, and returned to Nestlé's Head Quarters in Vevey, Switzerland.
Over the past four years, Valerio successfully coordinated various important innovation projects (break through innovation). He also scouted for external innovation opportunities including startups, academic think tanks and governmental research consortia. In charge of open innovation as well as major strategi partnerships and alliances, Valerio was also instrumental in driving forward our digital nutrition project, which is now piloted by two different businesses, and also managed our innovation partnership with Samsung.
Furthermore, Valerio led our R&D internal executive education programme that promotes entrepreneurial thinking. This programme delivered a number of business relevant and very innovative concepts. Together with highly effective teams, Valerio has driven a cross-functional culture of Innovation that is fast, effective and efficient, enabling innovation to happen across the wider Nestlé, contributing to designing the future of Nestlé.